French artist Christain Boltanski's No Man's Land: 30 tonnes of discarded clothing. Photograph: Stan Honda/AFP/Getty Images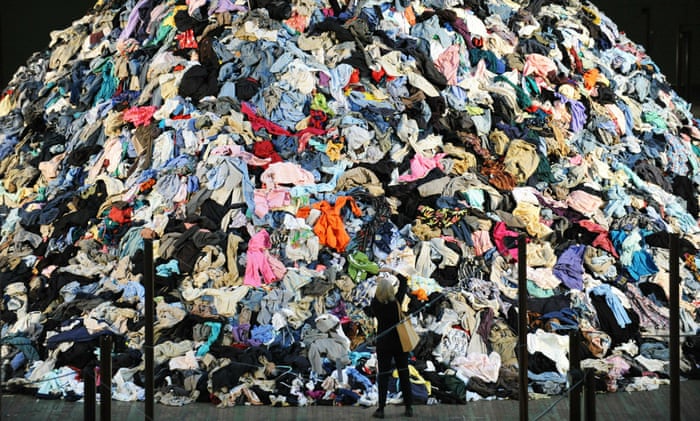 The simple truth is this: you can read all the books and buy all the cute cubbies and baskets and chalkboard labels, even master the life-changing magic of cleaning up – but if you have more stuff than you do space to easily store it, your life will be spent a slave to your possessions.
We shop because we're bored, anxious, depressed or angry, and we make the mistake of buying material goods and thinking they are treats which will fill the hole, soothe the wound, make us feel better. The problem is, they're not treats, they're responsibilities and what we own very quickly begins to own us.
The second you open your wallet to buy something, it costs you – and in more ways than you might think. Yes, of course there's the price tag and the corresponding amount of time it took you to earn that amount of money, but possessions also cost you space in your home and time spent cleaning and maintaining them. And as the token environmentalist in the room, I'd be remiss if I didn't remind you that when you buy something, you're also taking on the task of disposing of it (responsibly or not) when you're done with it. Our addiction to consumption is a vicious one, and it's stressing us out.
…
So if bigger homes aren't the solution, what is? I suggest heading in the exact opposite direction: deliberately choose a life with less. Buy less and instantly you have less to store; you use less space. Eventually you can work less to pay for all of this stuff. Soon you will stress less too and, above all, your life will involve less waste.
Are you wondering where to begin? Don't. You know exactly where this journey starts. It starts with the stuff that makes you feel guilty, stressed or overwhelmed when you look at it. The clothing with price tags still on them, the toys no one plays with, the boxes and boxes of stuff you're storing in your attic, basement and garage, just in case. Get rid of it; recycle it, donate it, sell it on Craigslist. And when you're done getting rid of it, stop buying more.
Because when it comes to stuff, I promise you, you don't need more labels or better systems or complicated Pinterest tutorials – all you need is less.
Full article + Source Guardian